The Lifestream Generator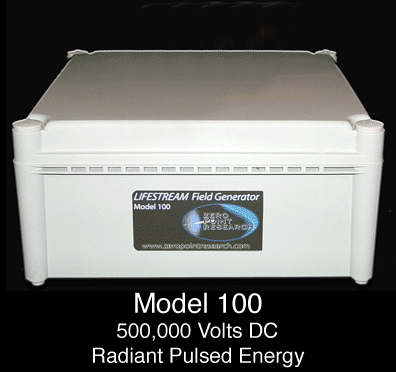 All Lifestream Generators are built per order.
This is Radiant Energy Technology!
Our Latest Technology!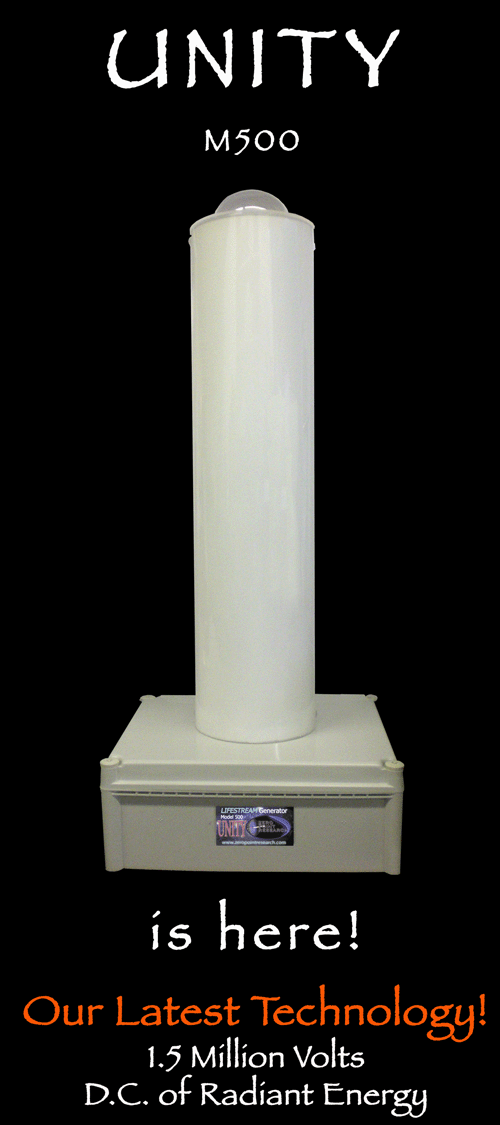 ___________________________________________________________________________________
Now Available for your Home or Center!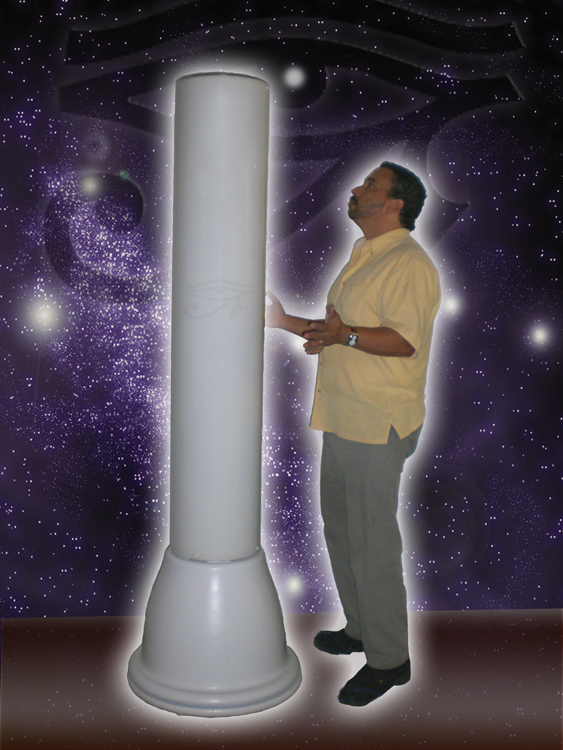 Download Our Product Brochure!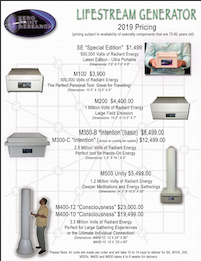 Click to download Product Brochure PDF
or right button click to download to hard drive
File is large
___________________________________________________________________________________
• Improve Performance • Achieve Goals • Eliminate Stimulants and Dependencies
• Reduce Visible Aging • Increase Memory • Restore Mental Balance • Increased Energy
• Manage Stress • Be Healthy • Increase Longevity • Sharpen Mental Clarity • Live in Perfect Balance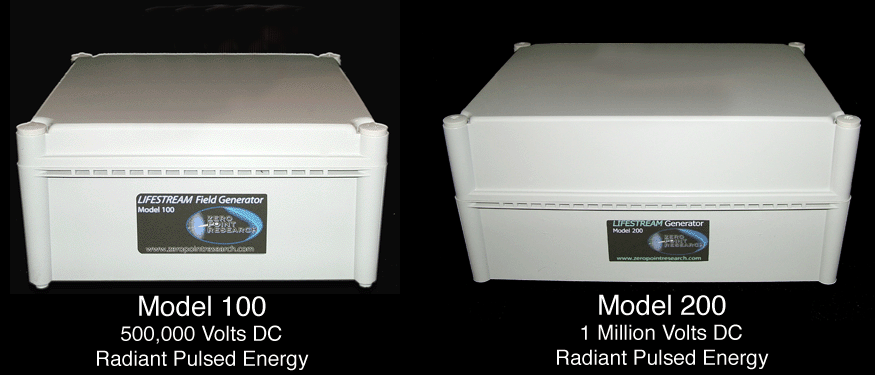 Model 300 "INTENTION" is now available to clinics and qualifying personnel!

2.5 Million volts dc of Radiant Energy

___________________________________________________________________________________

___________________________________________________________________________________

The Model 400 "CONSCIOUSNESS" takes Radiant Energy to the Next Level!

Using 360º of Energy emissions promotes a Radiant Wave of Energy

never before experienced! The field expansion allows experiences

for the individual to 100 people at one time allowing unification

and resonance beyond anything you thought possible!

Perfect for Meditation, Yoga, Energy Work, Quality of Life, Peace.

The Lifestream "CONSCIOUSNESS" Experience is Unlike any Other!
M400 Consciousness in Malibu, Ca

New Home of Another M400 Consciousness in Long Beach, California at the Rudra Yoga, Meditation and Healing Center

___________________________________________________________________________________

News and Announcements

Hands On Energy Transference Certification Starting in Santa Monica!

Contact us for next certification course schedule for 2016

Transfer of Radiant Energy through touch!

___________________________________________________________________________________

Research Announcement

Zero Point Research Announces Research Center in Santa Monica, CA

We have set forth our research study for 2005 to2014 and will be studying the effects and

benefits towards various Higher Quality of Life. Our results to this day have been amazing and we feel it

is time to move forward towards further research and awareness towards this goal.

If you feel you would like to help in our research program to bring this and our other

studies to the forefront, please feel free to donate to our research. We have

provided a "Donate" button on this site for you to help.

We thank all of you who believe in our technology, research and vision.
___________________________________________________________________________________
We have completed several certification clasess for certification in the Hands on Energy Transference Procedure.

We have nearly 100 specialist certified and available to demonstrate this procedure to people in the

California and various global countries! If you are interested in having a specialist

demonstrate this technology please feel free to contact us.

The Lifestream Generator is a combined technological achievement basing research from Nikola Tesla, George Lakhovsky and George W. Van Tassel. There is a combination of over 100 years of research to bring this technology to mankind.

The Lifestream Generator uses Radiant energy waves to send a Unified Field of Energy through the body and in the process raising the cell voltage of all parts of the body thus bringing back a balance to oneself and allowing the body and mind to bring itself back into well being. Your body and mind will detoxify on its own and will gain the youthful energy it once had. Your body will optimize and balance.This device is a Radiant Energy Device and has proven to show miraculous effects on all life on this planet. From humans to animals and plants. Radiant Energy Technology when produced causes oneself to re-connect to the planets Earth Pulse and will naturally bring you back to balance from all surrounding exposures to energies that cause imbalances (EMF, RFI, power lines, etc.) The energy emitted from the Lifestream is a noticeable energy. You will feel it! You can interact with it! You can pass it to others! The benefits are nearly instantaneous. Your body and mind will relax within minutes and will proceed to eliminate your stress centers of the imbalances that cause the body to store or hold these harmful imbalances. Own a Lifestream Generator and start living your life the way it was intended to be. In Balance!
This device uses Radiant Energy Technology that has not been used in such devices until now. The results have been amazing. We have re-discovered this gift for mankind and wish to share it with the world! " April 29, 2006 at the Integratron was an amazing experience for all who attended. With the introduction of the Model 400 we achieved a resonate experience into the higher states of awareness. Thank you all who participated!

We have had an such positive response since we have offered the Lifestream

Hands on Energy Transference

and Lifestream Experience at our Center in Santa Monica, CA. Please continue to visit this site as we will be listing centers and practices that utilize this technology. Thank you all who have made the connection!

Please download the instructions and procedures in PDF format for more information.

Medical Disclaimer

The products on this web site are not intended to diagnose, treat or cure any physical problems or medical conditions.

Information on this site is intended to be used for educational purposes only.

The statements on this site have not been evaluated by the FDA, and as such,

shall not be construed as medical advice, implied or otherwise.

This technology is for investigational use only.

Here is the first week of our Lifestream "Hands ON" Certification

Course now being held in Santa Monica, CA

Feel free to watch the first week for free!

John D. Riley:"Shifts Into Higher Consciousness"
Lecture at the Conscious Life Expo February 12, 2011

PROJECT: GEOSIS _The Hydrogen Generhttp://www.youtube.com/watch?v=N8SQM8RI-LIator Alzheimer's Study Unified Field Generation

for Fuel Efficiency

New Video demonstration of the effects on Natural Materials for the GEOSIS Project

Zero Point Technology from Spirit Quest on Vimeo.